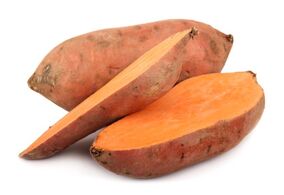 MY Build: Dual round wire coil - .25 ohm/recoil/rx 200/75 Watts.
Percentage Mixed: Standalone /5%/ 70/30 VG/PG
Steep Time: 2 Days: As this is a fruit, it doesn't change too much in the steep process.
First Impresstions: So in all honesty, my first impression of this flavor, before I even ordered it, was eeewww, yam why on earth would someone make a yam flavor and where in the world would that fit in a mix. Then I thought about sweet potato pie and how close it is to pumpkin pie and thought that this would be a good addition to something pumpkin. It being fall, I NEEDED to do something with pumpkin. I am glad I got over that first impression and decided to give it a go. It is a clear flavoring with a slightly sweet, musty smell (which didn't give me any more confidence to actually put this in a mix). Once I dropped it on the back of my hand for a lick test, I noticed it was very sweet and not as musty which made me feel a little better about trying it.
Taste: This flavor has really surprised me. It does not have a very potent potato-ey, flavor like you might think but what you do have is a nice, sweet, mellow, starchy, if a bit earthy, bottom note. The earthiness or mustiness is a bit spicy reminiscent of a tea. This flavor has a nice, thick, creamy mouthfeel.
Standalone/Mixer: It is quite pleasant vaping all on its own but really shines when you use it to add complexity to a recipe. It is used in the pumpkin cider recipe to add body to the pumpkin flavor and round off the harshness the pumpkin spice has. This flavor was the glue, I believe, in the pumpkin base of this Cider recipe. It worked so perfectly in filling out the pumpkin flavor and softening any rough edges. It gives the mix a sweet, mellow fullness I really like.
Pairings: Ok, so this took some thinking about as the only thing I could think to do with this flavor is put it in your pumpkin base for fall recipes. It is such a nice thick and sweet flavor it would probably be good with custards and other creams. There, of course, always is the aforementioned sweet potato pie; throw a little maple in there, some brown sugar and perhaps a little marshmallow and a touch of cinnamon and maybe some pecan and you have a traditional thanksgiving sweet potato casserole. I don't really think you would get a lot of use out of this flavor so a 10 ml will last you for a while.
Thanks guys for reading this. I am glad I can contribute to this awesome community and I look forward to writing up more reviews as I am terribly behind on single flavor testing. As always you can find other awesome flavor reviews in our awesome wiki!
https://en.wikipedia.org/wiki/Yam_(vegetable)
Source: Reddit