We're Getting Mutants in the MCU - The Loop
Play Sound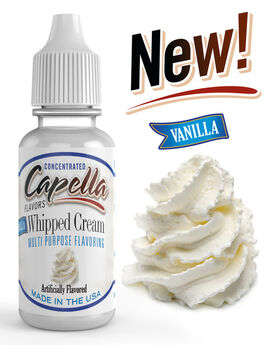 Setup: Recoil w/ flavor barrel, Dual 15 wrap 26g 3mm Nifethal 70 coils @.18 ohms. 60w power, 450F temp limit. Full Cotton Wicks.
Testing: CAP Vanilla Whipped Cream v1 @ 4%, 60/40 VG/PG, Steeped 20 days.
Flavor Description: Slighly sweet, almost overwhipped whip cream. Borders on a really fluffy butter. If you've ever whipped cream, then tasted and realized you'd undersweetened AND ran the mixer a bit too long, that's the vibe I'm talking about.
Smooth, fluffy moderately dense sweet cream on the inhale. Cream is fairly realistic. Has some heavy dairy / buttery notes. Not frosting sweet, sweetness is delicate and subtle. Exhale has some really faint, cheap vanilla extract notes, especially in the beginning. Volume really shows up midway through the exhale. Sweetness remains pretty tame. I get most of the dairy notes on the inhale and they linger through the exhale. Finish is a bit flat and sour.
Off-flavors: Solo, it has a slightly sour soapy finish. I've never noticed it in a mix.
Throat Hit: 0/10.
Uses: Creamy emulsification. Less rich sub for custards. Extra volume in Ice Creams or Custards.
Pairings: Knock yourself out. This is a blank slate. Maybe nothing that tastes too green or grassy. That would taste pretty weird.
Notes: S&V testing, this shows up pretty clearly at 1% and gets a bit too cream heavy and a touch sour after 5%. Personally, I'd use this around 2-4% to smooth out and add creamy volume to a recipe without any other creams. I'm not really a layerer when it comes to my juice, but I've found this doesn't stick to one layer in a recipe. It's more like a creamy emulsifier. Not as thick or buttery as a custard, but has that same almost sticky creaminess.
Second Opinions:
Some quick, positive takes on Reddit
Some more info on Capella Cream Flavors, mostly in the comments.
Worth noting, I don't pick up nearly as much vanilla as other people seem to.
Source: Reddit