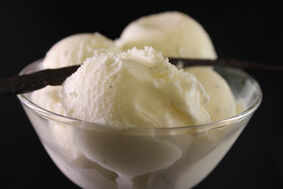 Rda/ Velocity
% Used/ 5 mixing % 2-10
coil/ Clapton w/ 45
Steep time/ 3 weeks Wicking/ Full
Mouth Feel - Smooth heavy and very dense I would give it a 9 out of 10. No throat hit.
Flavor Properties- Creamy and rich super smooth icecream with the the perfect vanilla. Not artificial Not spicy moderately eggy, heavy on the dairy, fairly sweet, and that super rich butter & cream you expect in an ice cream or custard.
Relatable Flavors - To me this is I like eating a spoon full of blue bunny vanilla ice cream, or a vanilla buttercream.
Off Flavors - I'm not finding any faults here I have heard people say that VBIC can be peppery. I have had what I would describe as spicy vanilla before but I'm not getting that here. (I'm assuming it's the TFA)
Position in the recipe - With its super-dense properties my opinion is this is best in a base, could also be used to Accent other creams.
Pairings - Other creams, berries, fruits, tobacco's, bakeries, and beverages like Cola or root beer.
Source: Reddit