We're Getting Mutants in the MCU - The Loop
Play Sound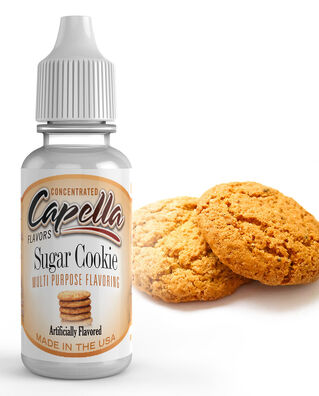 Setup: Plume Veil RDA; dual parallel @ .40Ω; cotton wicks; 50W
Testing: CAP Sugar Cookie @ 5%; Aged: 20 days
Flavor description: Sweet, slightly buttery, slightly cinnamon and sugary snicker-doodle cookie type of taste with subtle notes of almonds or some sort of nuts. Not as dry/crunchy of a mouth feel as FA Cookie, but more like a thinner cookie baked so the outside crunches the slightest bit, yet the inside remains soft.
Off-flavors: I'm getting a bit of anise or strong dark spice, reminiscent of something like FA Nonna's Cake but nowhere NEAR as strong. I'd say it's easily tolerable in this concentrate.
Throat hit: 6/10
Uses: Pastries, cakes, pies, etc. There are many popular dessert recipes that use CAP Sugar Cookie at varying percentages. Check them out, or enjoy it standalone at a higher percentage.
Pairings: Various creams, graham cracker, nuts, cakes, tobaccos, some of your juicier fruit flavors. I'd say it's pretty tough to mess up a pairing with this flavor, just don't over-do it.
Notes: This flavor is a must have in your arsenal if you're into dessert-type mixes. Very versatile and also makes a great standalone flavor due to it's depth.
Source: Reddit