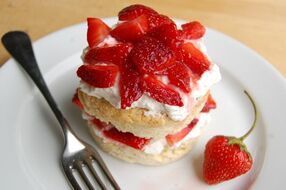 RTA/ Goblin Mini
% Used/ 5
Coil/ Dual W/ 35
Steep Time/ 1 week Wicking/ Full
PG/VG 50/50 Nic% 0
Mouth Feel - Slight throat hit (more like a scratch at the back of the throat. But smooth for the most part.
Flavor Properties - Slight creaminess, fruit and cake
Relatable Flavors - I taste a very artificial strawberry followed by what appears to be FW Yellow cake and some kind of cream.
Off Flavors - I wouldn't call it off but the strawberry is very artificial. Aside from that, there is some odd waxiness to it, similar to the properties I taste in FW Yogurt. Not sure if it's just a subjective thing but nothing noticeable enough to turn you off.
Position In The Recipe - Without a doubt, this was made to be a standalone or a base note. Personally, I wouldn't recommend this as a standalone as it doesn't have the complexity or the nuances to make it a tasty enough vape.
Pairings - It needs another strawberry or two to bring out it's strawberry notes. It also needs a lot more cream and cake to make it feel like a real strawberry shortcake.
End notes - This is an average flavor. It could become great with the right note pairings, or you could just scratch it and build your own strawberry shortcake!
Source: Reddit