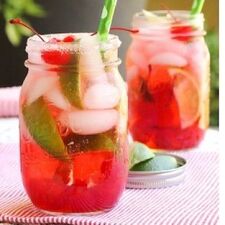 Testing
Steep Time: 10 days; Percent Used: 5%; PG/VG 50/50; Nicotine: 0%
Setup
RDA: Twisted Messes Squared
Coil: Groove Fused Framed Corrugated Staple
(2x28SS316/36KA1::4x0.4N80::2xCorrugated0.4N80::1x40N80)
(5.5Wrap::DualCoils::0.12ohm)
Power: 65 Watts; Wicking: None (Wickless)
Mouthfeel
Semi-smooth. Tart with an implied juiciness on the inhale but with a drying affect on the exhale.
Throat Hit
5/10
Flavor Properties
Flat store brand 7up knock off flavor with a touch of what I think is supposed to be grandine but tastes kind of off and sticky.
Relatable Flavors
To get an idea of what this flavor tastes like, it's like one of those warm cans of soda that were sitting in your friend's garage in the dead of summer because their dad refused to waste the fridge space on pop. Now imagine dropping one of those discount cherry cough drops in it. It's kind of good and its heart is in the right place, but everything here just tastes like it could be better.
Off Flavors
Somewhat earthy off flavor is present in the background. Similar to FLV Cranberry's off flavor.
Position In The Recipe
This flavor could be used as a base, say, in some particular kind of Gusher's style candy recipe. However, to me this really tastes nothing like gushers, (I just bought some the other day to test this). I haven't ever bought Gush to compare so this is nothing against that recipe recreation, I'm sure it tastes just like the juice, just not what I was hoping for when I originally bought it. That being said it does have a pretty kicking sour element, and it is kind of good as a standalone in a sort of slumming it with cheap  soda kind of nostalgia. Where I see it being most useful is a sour touch to another drink recipe with crisper, more authentic flavors. Could be a good topnote for a fruit punch or mai tai type recipe.
Pairings
Citrus, champagne, rum, pineapple, tropical fruits, orange/cream, candy, soda.
Notes
There's a pretty solid looking 7up recipe in this month's (check post date future redditors) recipe thread that looks like it could be augmented with some cherry flavoring to make a more authentic Shirley Temple drink recipe. This is not a terrible flavor but it's not fantastic either. It could be useful but it's not a must buy IMO.
Rating 49.99/100
If you disagree, well that's just like, your opinion man.
Source: Reddit