We're Getting Mutants in the MCU - The Loop
Play Sound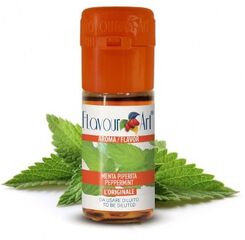 My build:
Kayfun 5/Therion 75w/30 watts/Single coil Kanthal
Percentage Mixed
Standalone/3%
Steep Time:
5 days.
First Impressions:
The liquid is green but it's definitely natural. It's not an artificial food-dye color, but more of a natural hue of green, something resembling a plant (duh). This is probably one of few colored flavorings I've seen (aside from the obvious chocolate). However, I feel I need to mention that the color goes away after mixing it with VG, PG and nicotine.
It's also important to note that the coloring might be an isolated incident as few mixers have said their FA peppermint looks clear.
First few sniffs offer a very fresh smelling scent. It reminds me of those red and white peppermint candies you can get during Christmas. It's a little bit sweet and there's also a touch of cream.
Taste:
This is spot-on peppermint candy! I get the sweetness on the tip of tongue followed by a hint of creamy goodness. However, the mint is on the mild side that it's almost non-existent. For fans of mint and menthol, you definitely need to add other flavorings such as FA Spearmint, TFA Menthol and TFA Koolada to get that back-of-the-throat chilling sensation that you enjoy.
Standalone/Mixer:
I thoroughly enjoy this as a standalone, however I believe this flavoring truly shines when it's complemented with other flavors. You could definitely make a delicious chocolate mint with this. Maybe a vanilla mint cream. Or even a Wrigley's gum if you lean that way. The possibilities are endless.
Pairings
Fruits, desserts, chocolate, candy. You could add this in small amounts to brighten up a dull mix.
Is it 4oz-worthy?
Well, it's relative. If you enjoy mints, menthol and things of that nature, you will definitely want to pick up a bottle of this.
Recipe:
I got inspired by DB Liquids rendition of a vanilla mint cream. This is my take on that.
AboMINTation
Flavor profile:
Vanilla Mint Cream
Flavourart Spearmint - 2%
Flavourart Peppermint - 2%
Flavourart Vanilla Classic - 1%
TFA Vanilla Swirl - 2%
Capella Sweet Cream - 1%
Flavourart Vienna Cream - 1%
Flavourart Fresh Cream - 1%
1 drop TFA Menthol / 10ml (optional)
Total flavoring: 10%
Mixed at 90/10 VG/PG
Source: Reddit