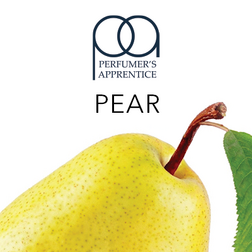 Setup: Plume Veil RDA; dual parallel @ .35Ω; cotton wicks; 45W
Testing: TFA Pear @ 3%; Aged: 3 days
Flavor description: Very earthy, green pear-like fruit. Somewhat sweet, but not overly. Not very juicy on the tongue, but not necessarily dry either. Kind of a cheap pear candy nuance.
Off-flavors: The earthiness might come off as bitter or floral to some people. The aftertaste is a bit weird by itself as well.
Throat hit: 4/10
Uses: This flavor works well for adding some realistic earthy or bitter accents to other fruits in a recipe.
Pairings: FA Pear for some juicy sweetness, other sweet fruits, most stone fruits. (Think anything with a large pit/seed)
Notes: I wouldn't recommend this as a standalone fruit flavor, as it will likely need some help from others to make it work. It has it's place, but may come down to preference whether or not you want it in your mix. I personally like using FA Pear 3:1 or 4:1 with it to create a nice rounded pear flavor.
Source: Reddit