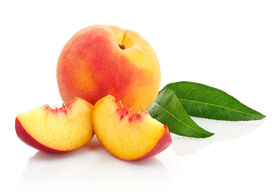 My build:
Kayfun 5 with Therion 75w, Vaped at 30 watts on a single coil build. 0.5 ohms.
Percentage Mixed
Mixed standalone at 5%
Steep Time:
It's a fruit, so no steep time is necessary although I let it sit for 24 hours/1 day.
First impressions:
There's not too much to say about the color. It's pretty much clear as day, which is to be expected with fruit flavorings.
The aroma reminds me of a ripened peach, it smells so sweet that I can almost taste the nectarine. I am also immediately reminded of a popular gummy peach candy.
Taste:
Oh wow, this is a pleasant surprise. It smells the way it tastes. I get ripe, sweet peaches with an underlying nectar taste. But wait, what's that hitting the back of my throat. Oh no, I'm getting a dreaded perfume taste. I can't shake it off. It's faint and you can probably mask it with creams and desserts, but it's definitely there.
Did I mix this too high? Perhaps. I might have to revisit this at a lower percentage...
Standalone/Mixer:
It's actually both. It could work as a good standalone if you lean that way. But I feel it would shine exceptionally well with a cream or bakery back note. I am also pretty convinced that this is the peach they are using in FW Peach Tobacco.
If you can get past the perfumey taste, this is a decent flavoring. Try adding another peach into the mix like FA White Peach or FA Peach to add a little dimension to it.
Is this 4oz worthy?
Unfortunately, no. Because of the dreaded perfume taste, I don't see myself vaping much of this. However, take note that this could be entirely my fault for mixing it at 5%. It could be one of FW's stronger offerings. I'll need to revisit this one in the future.
Source: Reddit