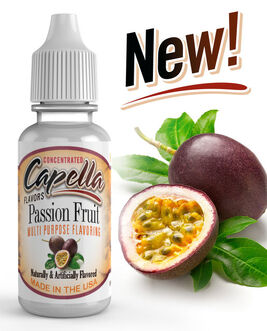 Setup: Kangertech Subox; single coil kanthal (0.5) with cotton wick;25 watts
CAP Passionfruit @5%; 50/50 PG/VG; 0% Nic; steeped 14 days
Flavor: Very light, airy tropical fruit flavor resembling a mixture of pomegranate and papaya.
Off flavors: Slight syrupy flavor tends to emerge at higher percentages, but is negligible at 5%.
Throat hit: Almost nonexistent
Use: Great accent to other other fruit/berry flavors well, or work well in a berries & cream recipe. Can be excellent standalone at highest percentages.
Pairings: Berries and other fruits, whipped cream or vanilla, would taste great in a custard
Source: Reddit