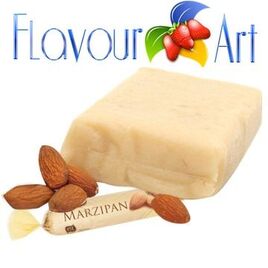 Testing
Steep Time: 16 days; Percent Used: 2%; PG/VG 50/50; Nicotine: 0%
Setup
RDA: Twisted Messes Squared
Coil: Groove Fused Framed Corrugated Staple
(2x28SS316/36KA1::4x0.4N80::2xCorrugated0.4N80::1x40N80)
(5.5Wrap::DualCoils::0.12ohm)
Power: 65 Watts; Wicking: None (Wickless)
Mouthfeel
Not much of a mouthfeel with this one besides a bitter feeling on the tongue on the inhale. Slight throat hit.
Throat Hit
4/10
Flavor Properties
Tastes just like bitter almond with a sugar glaze with a faint honey note. Slightly toasty.
Relatable Flavors
Marzipan. Jordan Almonds. Amaretto.
Off Flavors
Not an off flavor but for a sweeter almond extract type flavor go with FA Almond instead.
Position In The Recipe
This is a pretty tasty standalone vape although somewhat two-dimensional. This is a great alternative sweetener, and is especially good for giving a toasted almond flavor to bakery recipes and adding a touch of sweetness.
Pairings
Bakery, Stone Fruits (cherry, peach, apricot, plum), Apple, Fig, Cream, Vanilla, Other nuts, Orange, Banana, Caramel, Coffee, Honey, Pear
Notes
To mix things up a bit, I like using this as a modifier for orange in bakery recipes. I also like this as a topnote in a pistachio ice cream recipe that I may release someday but I'm still playing with. I really like the smell of this concentrate right from the bottle. Actually, I think that's my favorite part about this concentrate. If you like keeping aroma molecules around just to smell, this one is a must buy. Seriously, this flavor smells amazing.
Recipes HIC's Amaretto Disoranno recipe
Rating 87.2/100
If you disagree, well that's just like, your opinion man.
(But you should write that down there in the comments)
Source: Reddit