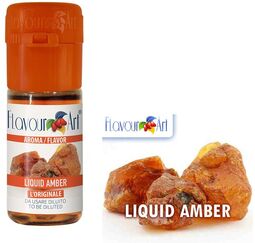 Setup: Plume Veil RDA; dual parallel @ .40Ω; cotton wicks; 50W
Testing: FA Liquid Amber @ 2%; Aged: 17 days
Flavor description: Tart, fermented, slightly bitter white or green fruit, like a dry white wine. Very slight sweetness along with a decent sour note. Also gives a bit of a warming sensation on the tongue.
Off-flavors: The sour tartness might be off-putting, but I feel it is part of what the concentrate is.
Throat hit: 6/10
Uses: Fermented accent to fruits @0.5-2%. Could also be used to add a sour note or tartness to a bakery/dessert recipe containing fruits.
Pairings: Mainly fruits. Also cinnamon, caramel, or maybe brown sugar.
Notes: I have to say this isn't really comparable to FA Brandy as I've seen others state. FA Liquid Amber is much more potent, sour, bitter, and gives a heavy fermented accent to a recipe, especially with fruits. FA Brandy seems to be much sweeter and more creamy with a slight white/green fruit back note.
Source: Reddit