We're Getting Mutants in the MCU - The Loop
Play Sound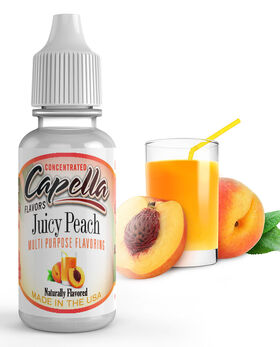 Setup: Recoil w/ flavor barrel, Dual 15 wrap 26g 3mm Nifethal 70 coils @.18 ohms. 60w power, 450F temp limit. Full Cotton Wicks.
Testing: CAP Juicy Peach @ 4%, 60/40 VG/PG, Steeped 7 days.
Flavor Description: A relatively complex artificial peach flavor. Slight perfume notes, but a moderately thick full "peach." Reminds me of the kind of flavoring they'd use in a canned ice tea or mid-grade flavored vodka. Little bit of a a sticky mouthfeel, but nothing approaching gummy. Sweet, but not aggressively so.
Off-flavors: Subtle chemical notes. A little bitter and astringent, but pretty manageable. Some added fruit will help mask those flavors effectively.
Throat Hit: 3/10. Can get a little bitter and seems to tighten my throat up a bit with extended use. Absolutely nothing compared to TFA Juicy Peach, for me at least.
Uses: Peach body, with a more floral and aggressive Peach. Candy peach recipes. Would mix well in a straight fruit recipe. Probably a bit too artificial for bakeries. Would work well when you are trying to impart a commercial "peach" flavor to things like Ice Tea or cheaper peach ice creams.
Pairings: More complex, earthier fruits to add some complexity and some sweetness. Peach mixes with damn near every fruit I can think of. Should work unobtrusively with creams, ice creams, custards, etc. Candy texturizers.
Notes: Another reminder to steep your juice, even if it's just a straight fruit. This starts out super floral and kind of a chemical mess. That seems to be a running theme with the peaches I've tried. I like CAP's "juicy" line just because they provide some pretty straight-forward, if not particularly complex, flavors that mix well. I'd consider this a good lowest-common-denominator peach. It won't change your life or anything, but it gives you a clear, unmistakable, sort of artificial peach without the throat-hit of TFA Juicy Peach, or the pronounced floral notes and sharpness of FA White Peach.
Second Opinions:
Vaping Underground forums: Bitter AF
I'm more positive on this flavor than other people. People seem to be lumping in with TFA Juicy Peach, but I think it's fairly different. Throat hit doesn't even seem comparable. Flavor is similar, but I like this execution quite a bit more.
This also doesn't taste like canned peaches to me. It has some of sweetness, and the mouthfeel, but ultimately it's too perfumy and artificial to read as canned or cooked in any way.
As to bitterness, it's there. I kind of like how it sets off the flavor, but my palette runs towards the bitter, so caveat emptor I guess. I don't find it unpleasant at all.
My tastebuds can get fatigued, so my process for these notes include trying a reference juice first to make sure my palette is working well and is loosely "calibrated" to whatever the hell it normally is.
Source: Reddit