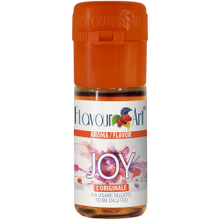 Setup: Plume Veil RDA; dual parallel @ .40Ω; cotton wicks; 50W
Testing: FA Joy @ 2%; Aged: 19 days
Flavor description: Doughy, yeasty, bready, kind of oily, with notes of sugar and cinnamon. Very thick mouth feel. Reminds me a lot of the freshly fried sugared donuts you get at a carnival or fair or maybe a funnel cake.
Off-flavors: I've had reports of stale beer at higher percentages.
Throat hit: 5/10
Uses: Provides a deep fried sugary sensation by adding 0.5-1% to a recipe. 2% gets a bit doughy, and at 3% and over it might get weird on you. I use it in my Grape Ice Cream Cone recipe at 2% without it being too much. Certain flavorings such as INW Biscuit seem to really amplify the doughiness. Could also work as a sweetener or substitute for EM under 0.5%
Pairings: Bakery type flavorings such as biscuit, cake, cookie, or donut type flavors. Plays well with creams and chocolates also. I can also see this working with apple, peach, or pear flavorings in a pie/cobbler type recipe.
Notes: I would say for the most part that is typically going to be a supporting flavor at lower percentages. It is definitely very unique with what it adds to a recipe. It isn't bad by itself at 2% IMO, yet doesn't really carry enough of a punch to be a standalone. This flavor is a great example of how a flavor can really change when you use too much. Start low and adjust to your liking! I'm going to page /u/enyawreklaw so he can maybe add something in here, as he uses it in a couple of his extremely popular recipes.
Source: Reddit