We're Getting Mutants in the MCU - The Loop
Play Sound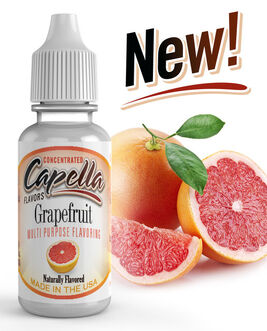 Setup: Recoil w/ flavor barrel, Dual 15 wrap 26g 3mm Nifethal 70 coils @.18 ohms. 60w power, 450F temp limit. Full Cotton Wicks.
Testing: CAP Grapefruit @ 4%, 60/40 VG/PG, Steeped 8 days.
Flavor Description: Bright. Medium sweet on the inhale with a faint grapefruit flesh taste. Exhale brings out some sourness and bitterness with a citrus rind sting. Well balanced if a bit simple grapefruit. Kind of tastes like the missing link between FW Blood Orange and FW Ruby Red Grapefruit. It could just be the sourness but I get a mild bit of effervescence here.
Off-flavors: None.
Throat Hit: 7/10. It's there, but not out of line for a citrus.
Uses: Accent flavor for fruit mixes. Volume for a citrus mix. Effervescence would lend itself to something like Grapefruit soda or a cocktail recipe.
Pairings: I'd stay away from bright harsh flavors like green apples and pears. Berries, Pineapple, Guava, Pomegranate. Creams. Too bright and harsh for bakeries, or spices. Cactus for juiciness.
Notes: This is pretty solid. I had a vial hidden in some older supplies from a Wizard Labs order and decided to give it a shot. Apparently the market is lousy with decent to good grapefruit concentrates. I still prefer FLV Pink Guava for an interesting grapefruit, and FW Ruby Red Grapefruit for a more robust sweet grapefruit juice. This has real potential though, especially is the carbonation holds up in a mix. It tastes more like a sweetened white grapefruit, instead of an inherently sweet ruby red grapefruit. All in all, a really pleasant surprise. 4% seems like a really solid single flavor percentage. The bitter notes are fairly subdued for a grapefruit, so at lower percentages it should add to a mix without being too distracting. Unobtrusive and tasty.
Second Opinions:
Reddit agrees CAP Grapefruit is... ok. Check the comments.
Not a super popular flavor. BCF just added it. WL has had it for a while. Used pretty sparingly on ATF and ELR. For what it's worth I agree with both the OP and the comments from that Reddit link. CAP grapefruit is a bit flat compared to competition. I'm excited to test the carbonation part of this, but it wouldn't be my first choice.
Source: Reddit