Jurassic World: Dominion Dominates Fandom Wikis - The Loop
Play Sound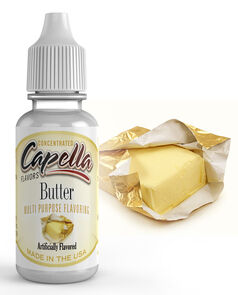 Setup: Recoil w/ flavor barrel, Dual 15 wrap 26g 3mm Nifethal 70 coils @.18 ohms. 60w power, 450F temp limit. Full Cotton Wicks.
Testing: CAP Golden Butter@ 4%, 60/40 VG/PG, Steeped 26 days for the solo.
Flavor Description: This tastes almost identical to CAP Butter Cream to me, with volume turned up a bit from like 2 on the buttercream to a whopping 3 or 3 1/2. Tastes quite a bit like homemade buttercream frosting, especially as this seems noticeably sweeter than CAP Buttercream. Waxiness is also more pronounced. I get intermittent still fairly faint dairy notes here. Like sweet cream butter, as opposed to a richer diacteyl popcorn butter note.
Inhale is mostly dense sweetness. Weird thing is, it's one the cleanest sweet notes I've got from a concentrate. Like straight sugar syrup. Exhale brings in what I get from the dairy note. Sweet, non cheesy butter. Clear sweetness here too. I could be imagining it, but the sweetness kind of has a really thin vanilla character to it. Lingering waxy mouthfeel.
Off-flavors: The entire thing? For me at least this isn't really butter, but a thick unctuous sweetness. That unctuous vibe gets waxy really quick.
Throat Hit: 0/10.
Uses: Dense, rich, thick mouthfeel for creams and cream mixes. If you get butter from this, then sweet cream butter notes for your bakeries.
Pairings: If you get butter, relatively dry pastries. If you get buttercream frosting, then the world is your oyster. Just don't expect it to translate for any given other person.
Notes: I'm absolutely convinced there is something here that I'm not tasting. This shouldn't be as subtle as is, both as the steeped tester and the S&V percentage testing. Given the reaction on CAP Butter Cream, I don't think I'm alone. I get a much clearer butter taste out of something like Cap Vanilla Whipped Cream. As with anything, it's worth trying this as a single flavor first to see what you're getting out of this.
S&V tasting, I get an almost identical level of actual dairy from this at .5% as I do at 4%. Sweetness does seem a lot more linear, rising up to 6%. Waxiness seems to show up early, and plateaus at around 4%. Given that I'm missing something here I would follow the recommendations in the second opinions and start low with this. .5% to start and work up.
Second Opinions:
Seems like /u/avtomal5150/ got about the same thing from this as I did.
Differing opinions on ELR Notes, Primarily the heavy butter camp.
Seems like some more mixed opinions on Vaping Underground
So, overall I'm stumped here. I don't hate this as a textural additive but I'm obviously not getting something that is supposed to be there. Seriously, YMMV.
Source: Reddit