We're Getting Mutants in the MCU - The Loop
Play Sound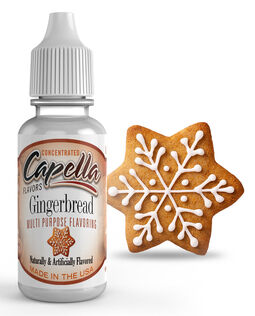 Setup: single coil kanthal (0.25) with cotton wick; 35 watts
CAP Gingerbread @4%; 30/70 PG/VG; 3mg Nic; steeped 2 days
Flavor: Sweet, not spicy, ginger. Not a gingerbread as in your holiday gingerbread men or ginger snaps. Instead, it tastes more like a ginger candy with a slight flour note or like the gingerbread syrup flavoring put in lattes and the like. More than anything, the flavor reminds me of some Japanese ginger snacks I picked up at an Asian market once, similar to these.
Off flavors: Syrupy. Nothing offensive, just not the dark, spicy, molassesy, bready gingerbread man one might expect.
Throat hit: Noticeable but not terrible, maybe 4/10.
Pairings: Bought it to infuse ginger flavor into poached pear recipe, so pear and apple were the first things that came to mind. Followed quickly by stone fruits. Goodness this would go well with peach, I think, like in a peach pie. Also citrus, berries, tropical fruit, brown sugar, creams, custards, teas. Bakery type flavors, of course. And other spices like cinnamon, anise, nutmeg, and cardamom, too.
Avoid: ??? Nothing comes to mind except flavors I would avoid regardless, like that godawful FA Pineapple. If someone has any suggested contraindications with CAP Gingerbread, please share.
Source: Reddit