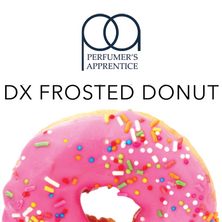 Setup: Plume Veil RDA; dual parallel @ .35Ω; cotton wicks; 45W
Testing: TFA Frosted Donut @ 5%; Aged: 6 days
Flavor description: Very sweet and cakey. Not an overly dense cake, but not too airy either. I would almost pass the "frosted" part off as more of a melted powdered sugar on the tongue if you will. Definitely more of a cake than a donut though.
Off-flavors: I don't taste anything off at 5%.
Throat hit: 4/10.
Uses: I can see this working as a cake, and it would likely play well in any bakery or dessert recipe.
Pairings: Fruits, creams, nuts. Could potentially benefit from the addition of a thicker cream.
Notes: To me, this comes off as more of a cake than a donut, but still a good one to have in your arsenal if you're trying to develop a tasty bakery recipe.
Source: Reddit