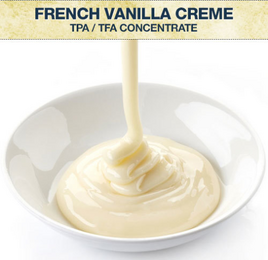 RDA/ Velocity
% Used/ 5
Coil/ Clapton W/ 45
Steep Time/ 2 weeks Wicking/ Full
PG/VG 50/50 Nic% 0
Mouth Feel - Very heavy on the tongue, and light on the nose giving it a very dense mouth feel. I would give it 9 out of 10. no throat hit.
Flavor Properties- Smooth and rich vanilla with a heavy Dairy, very buttery, and a well-balanced sweetness that really makes the vanilla pop.
Relatable Flavors - Reminds me of vanilla custard ice cream. ( may even be a suitable substitution for vanilla custard v1 cap.)
Off Flavors- Not really finding anything here.
Position In The Recipe - High percentages this should make a great top note, and due to its dense mouth feel should fit into a base nicely.
Pairings - Bakeries, chocolates, most fruits, tobacco's, nut flavorings, and other creams and ice creams.
Source: Reddit