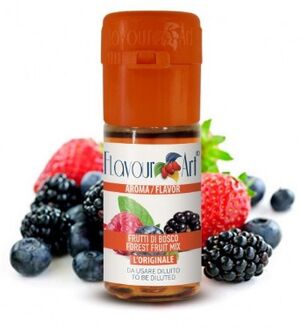 Summary A delicious blend of mixed berries. Slightly sweet, refreshing, yummy. Hard to pick out individual berries, but if I had to try, I'd say blackcurrant, blackberry, blueberry, maybe a hint of raspberry. I don't notice any medicinal or off flavors with it. It's not very tart, like you might expect from a mixed berry blend. You can really go a lot of different directions with this one. I have been wanting to do a fruit tart and I think this flavoring would play a very important role in that.
On the Nose Berries. lul.
Recommended Usage Stand alone: 5%
In a mix: 2-4%. I've actually seen this be used successfully as high as 7%, but it was overcoming a strong mint
Throat Moderate to Harsh; sharp. Calms down significantly with steep, and can be tamed with creams or other volatiles.
Pairings Creams, other fruits, mint, melon, Citrus, chocolate, tobaccos.
Avoid Not too sure here, berries go pretty well with just about everything.
Steep 2 days. Noticed significant reduction in throat after 1 week
Quick Recipe: Berry Creamy Ratio: 15PG/85VG Steep: 4+ days
FA Forest Fruit @ 2-4% (I like it at 2%)
FLV Cream @ 1%
TFA Marshmallow @ 2%
Here you really get an idea of what Forest Fruit tastes like, while giving you some creaminess to tame the throat and provide some body/balance, and some sweetness that I feel it needs.
Source: Reddit