We're Getting Mutants in the MCU - The Loop
Play Sound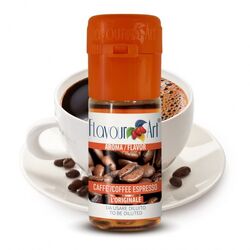 Setup: Velocity Clone V1. Single Coil SS 26g. .6Ω. 22-30 Watts. Cotton Wick
% Used: 2
Steep Time: 1 day - 2 weeks
Flavor Description: Coffee,Roasted,Nutty,Slight Cocoa,Earthy,Green
Off-Flavors: Slightly bitter end note
Pairings: Creams, Mints, Mocha, Desserts, Tobaccos
Position In The Recipe: Mostly upfront to middle. Not a strong inhale flavor and not much on the end. 
Relatable Flavors: Like eating a lightly roasted coffee bean after you've swallowed the bean itself, the taste it leaves on your palate. Sharp and bitter. Like a cup of espresso without any creams or sweeteners. Strong and slightly watery.
Notes: It's a black coffee. At .6Ω I had to drop it down to 22 W because I was getting a strong green note above that. Like a green coffee bean that slipped into the lot, not roasted. Earthy green. This flavor is usually mixed with a lot of other flavors piled onto it. Used as a coffee note and a very good one if not the best out there. Personally I can vape this alone @ 2% with 70 VG and the VG provides enough sweetness to make it a nice vape. If you like a Iced Skinny Cinnamon Dolce Latte, Milk Chocolate Melted Truffle Mocha, etc. This will provide all the coffee note your looking for. For sure.
Rating: 5/5
Source: Reddit