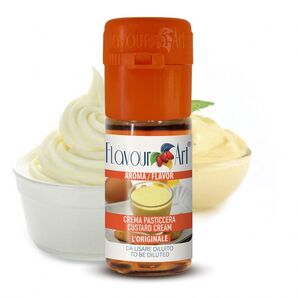 Setup: Plume Veil RDA; dual parallel @ .40Ω; cotton wicks; 50W
Testing: FA Custard @ 4%; Aged: 19 days
Flavor description: Sweet, thick, and creamy authentic home made custard taste with notes of raw vanilla and possibly cloves. Sort of like pudding, but much thicker. Slightly eggy, but more of an "egg white" nuance without the yolks, which if you've ever had egg whites, they are a delicacy by themselves.
Off-flavors: Some people report citrus or lemon. I personally do not taste that.
Throat hit: 4/10
Uses: Definitely a valuable additive in a cream base to promote thickness and mouth feel.
Pairings: Various creams, graham cracker, cookies, and citrus fruits. I can also see some caramels working well with it. Would probably work well with other fruits as well.
Notes: Probably the most authentic custard I have tried, as I cannot describe in words how truly authentic it is. I feel it would make a decent standalone flavoring as there seems to be quite a bit of depth associated with it.
Source: Reddit