We're Getting Mutants in the MCU - The Loop
Play Sound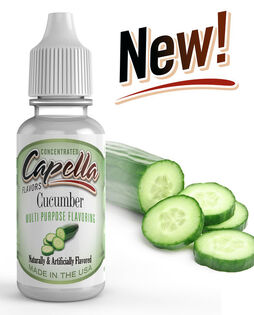 Setup: Recoil w/ flavor barrel, Dual 15 wrap 26g 3mm Nifethal 70 coils @.18 ohms. 60w power, 450F temp limit. Full Cotton Wicks.
Testing: CAP Cucumber @ 4%, 60/40 VG/PG, Steeped 9 days.
Flavor Description: Smooth light inhale. Some peel builds towards end of inhale and carries through into exhale. Fruit of the cucumber shows up on exhale on top of the peel. Sweetness builds through exhale. Exhale ends on a medium sweet note and a lingering taste like cucumber slices in water. Overall, pretty dead on the type of cucumber flavor you get from that cucumber lime gatorade, maybe a touch more realistic with some of the peel notes. A "green" flavor, but not woody or with any swampy vegetal notes, even at high temps.
Off-flavors: Some slightly bitter peel notes at 3% up. Not unexpected and definitely not unpleasant.
Throat Hit: 0/10.
Uses: Refreshing volume in fruit mixes. Agua Frescas. Cocktail recipes.
Pairings: Mints (the more realistic the better), Basil, Gin, Melons (especially cantaloupe), Cactus. Brighter berries. Bright citruses.
Notes: This one is hard for me. I think this is an awesome flavor, but I try to avoid any extra sweetness when I mix with it. A sweet cucumber note kind of destroys me in a juice. I like keeping this as dry as possible. Other people don't seem to have that issue, so take that for what it's worth.
Works really well for a smooth beverage cucumber. Light peel notes I'd expect, but adds moist volume with no major drawbacks.
Second Opinions:
Ziynik finds it refreshing in a multi-flavor review
1024 Recipes on ELR. Fairly popular. Moist and refreshing. Nothing negative in the notes
5 stars all the way on BCF reviews. Might be a bit stronger than I assume. 2 comments talking about under 1%.
Cucumber shows up a lot, and cap cucumber is popular. This is the only cucumber I've tried, but the consensus seems to be that CAP is less aggressive than FA's version, and possibly TFA's. I agree on most of this. It's a juicy, refreshing flavor. I don't think it's that strong. S&V at .5% and 1% seems too watery for me to go solo. Accent at 1-2% seems realistic, and this tastes okay up to about 6% solo. Seems to be a common go-to for an oddball flavor to rest a palette or deal with hot weather.
Source: Reddit