Jurassic World: Dominion Dominates Fandom Wikis - The Loop
Play Sound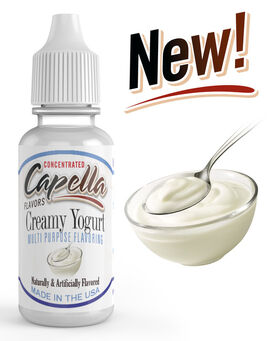 Setup: Recoil w/ flavor barrel, Dual 15 wrap 26g 3mm Nifethal 70 coils @.18 ohms. 40-60w power, 400-450F temp limit. Full Cotton Wicks.
Testing: CAP Creamy Yogurt@ 4%, 60/40 VG/PG, Steeped 23 days.
Flavor Description: Creamy yogurt isn't too far off. Light, slightly sour. Relatively subtle, at least compared to FA Yogurt and FLV Greek Yogurt. Has some of the chalkyness you'd expect but doesn't cross the line into straight butryic rancid.
Really depends on your temperature. at 400F, chalky inhale. Exhale has a bit of creaminess. Dairy note is fairly realistic. A little bit sour as well. Sweetness is really subdued. At 450, still chalky on the inhale, but those diary notes show up as well. Exhale is cheese forward, then some sourness. Moderately thick mouthfeel, and surprisingly clean on the finish.
Off-flavors: Cheese rinds. Pretty recognizable cheese rinds. Almost a bit nutty. Seems to show up right around 420F, at least on my setup.
Throat Hit: 0/10
Uses: Yogurt bases, more realistic dairy note in creams.
Pairings: Bright fruits. Jammy fruits. Graham and cereal type of concentrates for texture in the yogurt. Creams.
Notes: This is the part where I say that I'm not usually a fan of yogurts. When they run warm, it gets super weird super quickly. I'm willing to call this a pretty good yogurt option for people who don't really like yogurts. While it doesn't sound like a ringing endorsement, the fact that the flavor here runs towards cheese and not vomit is huge, for me at least.
At 4%, this is pretty full-flavored without being overwhelming. S&V testing, this seems pretty recognizable at about 2%. Taking this up higher is definitely not for me. I'd use this as a base, probably with other creams. I'd suggest 1-2% to add just a bit of funk to a otherwise creamy base. If you want to go full yogurt, then 4% seems like the play.
This really does strike me as a more mellow version of FLV Brie Cheese.
Second Opinions:
Apparently this doesn't really read as yogurt for people on Vaping underground here and here.
Decent notes on ELR, lot of yoplait being tossed around.
Pretty good % recommendations on reddit
Strawberry Yogurts recipe, Wayne call it's the best yogurt flavoring available.
Source: Reddit