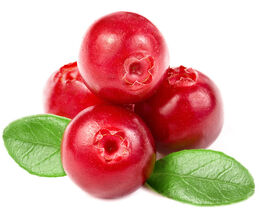 Testing
Steep Time: 10 days; Percent Used: 3%; PG/VG 50/50; Nicotine: 0%
Setup
RDA: Twisted Messes Squared
Coil: Groove Fused Framed Corrugated Staple
(2x28SS316/36KA1::4x0.4N80::2xCorrugated0.4N80::1x40N80)
(5.5Wrap::DualCoils::0.12ohm)
Power: 65 Watts; Wicking: None (Wickless)
Mouthfeel
Very Smooth. Light density. Slightly tart on tongue.
Throat Hit
3.5/10
Flavor Properties
Strong dry cranberry flavor. Not particularly candy-like, but not embodying the full body of a natural cranberry either. Slightly tart and bitter, but not nearly as much as FLV cranberry. Tastes more like the flesh of the cranberry than the rind, but with hints of the rind still present. Not sweet. Smoother than cranberry juice flavor.
Relatable Flavors
Some elements of cranberry flesh. Cough Medicine.
Off Flavors
While the cranberry flavor itself has a natural flesh flavor with a hint of rind, there is also a potent medicinal taste as well.
Position In The Recipe
This flavor could work with other cranberries/berries/stone fruits as a base or modifier, but it would need to be balanced to mask the medicinal off flavors. It's a strong flavor, so could work well at lower percentages in conjunction with other fruits to provide more body and sweetness. It could be used for a touch of tartness or bitter mouthfeel as a topnote, though probably wouldn't be my first choice in most recipes for this purpose.
Pairings
Other cranberries, berries, stone fruits, nuts, orange, citrus, vanilla, and creams.
Notes
Still not the craisin I'm looking for. With a lot of experimentation this might work with other flavors to get there, but not unless the medicinal taste goes away at lower percentages or longer aging. The actual cranberry flavor is nice, but the off flavors seem to be overpowering at 3%, which is lower than most FW percentages I would use. Could be good for a sizzurp flavor though I don't know why you'd want to vape that.
Rating 33.33repeating of course /100
If you disagree, well that's just like, your opinion man
Source: Reddit