We're Getting Mutants in the MCU - The Loop
Play Sound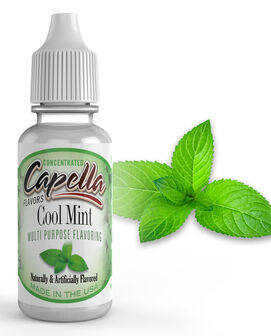 Setup: Recoil w/ flavor barrel, Dual 15 wrap 26g 3mm Nifethal 70 coils @.18 ohms. 60w power, 450F temp limit. Full Cotton Wicks.
Testing: CAP Cool Mint @ 4%, 60/40 VG/PG, Steeped 13 days.
Flavor Description: Mentholated vanilla on the inhale. Moderately dense. Sweetness builds through inhale into exhale. Lightly mentholated exhale, with a peppermint candy flavor. Artificial sweetener notes show up halfway through the exhale and linger after the finish.
Sort of generic mint flavor with almost no sharp edges. Creamy non-dairy light vanilla volume to it. Close to, but not quite, a peppermint, but definitely not a spearmint. No realistic mint herb notes or chemical harshness. Moderately to lightly mentholated. Sweet, but that sweetness tastes a bit artificial. That sucralose note is going to be covered up pretty quickly, especially in sweeter recipes.
Off-flavors: Aggressive sweetness. Lingering aspartame/sucralose slightly bitter note on the exhale.
Throat Hit: 0/10. Flavor is extremely smooth.
Uses: Mint candies and ice creams. Lots of use in shamrock shakes Alternative for Koolada in brighter fruit mixes where the sucralose taste isn't going to stick out.
Pairings: Milk chocolates, Vanilla, Your VBIC of choice, Watermelon, Strawberry. Creams, thick or light.
Notes: Good mint to use with creams and chocolates if you want to replicate a bland commercial-type mint. Really smooth, linear strength up to around 10%. Creamy vanilla notes will blend well in these applications. The Creme de Menthe's (FLV and FW) are pretty highly regarded with these kind of flavor profiles, so I'd definitely take a look at those first.
Those sucralose-ish notes mess with top notes on most fruit and seem to make dark fruits a bit weird. I'd keep it to brighter non-perfumey fruits and take it pretty easy there. Probably under 1% for just a hint of cooling menthol.
Second Opinions:
ELR Flavor Page, single percentages are again the work of crazy people, but sweetness and workable strength are mentioned.
Pretty solid reviews on ECX. Difficult to mix with, but pleasant by itself. Someone says "White Tic Tac"
Vurve's watermelon crack clone. Probably your best fruit application of this flavor
Shoutout to Lynn on ECX all the way back in 2012. This is a white tic tac. Fake sugar notes and all. Spot on.
Bonus: This concentrate, solo, is Adam Bomb's Chillaxin. 2013 me would have been extremely grateful to know this.
Source: Reddit