We're Getting Mutants in the MCU - The Loop
Play Sound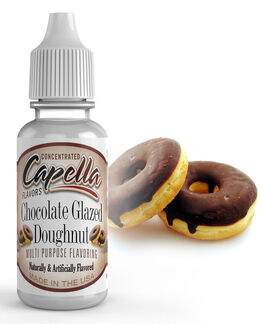 Setup: Velocity clone; dual twisted 28awg @ .55Ω; cotton wicks; 40 W
Testing: CAP Chocolate Glazed Donut @ 3%; Aged: 10 days
Flavor description: Very dense chocolate cakiness with artificial chocolate icing. A little bit dry, and definitely thick. Similar to what you would expect out of a package of Little Debbie chocolate glazed donuts, but with the donut part being chocolate as well. I personally get the icing on the inhale and dense chocolate cake on the exhale.
Off-flavors: A bit waxy, but in the way pre-packaged Little Debbie snacks' chocolate "icing" is waxy. Not totally off-putting, but a rather weird texture if you will. Some users also report the dreaded "Play-Doh" taste associated with CAP Glazed Donut.
Throat hit: 4/10 rather smooth, yet has a very dense mouthfeel.
Uses: Obviously, everyone should be familiar with /u/enyawreklaw 's Bronuts recipe which uses this at 7%. At lower (<3%) percentages, this flavor could works well for adding density and/or depth to existing chocolates. For me, this works as a standalone too if you're just looking for a straight up chocolate donut vape.
Pairings: Cookies, peanut butter, nuts, coffee, or even other cake flavorings. FA Joy to add a bit of sweet yeasty/doughy aspect. I can also see this working well with certain fruits if you wanted to get creative with pairing the chocolate.
Notes: I didn't include creams in the pairings simply because some of them that I tried had a tendency to take away from the dense cakey chocolate. There might be some that do work for you, but in my experience they tend to slightly mute the chocolate and seemingly "thin out" the mouthfeel. I personally enjoy this concentrate a lot more without any creams in the mix.
Source: Reddit