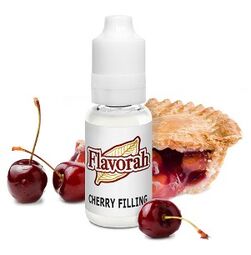 Setup: Velocity 2 Clone, Dual 15 wrap 3mm Nifethal 70 coils @.18 ohms. 45W-80w power, 500F temp limit. Full Cotton Wicks.
Testing: FLV Cherry Filling @ 3%, 70/30 VG/PG, Steeped 2 weeks.
Flavor Description: Artificial cherry flavoring. An astringent, bitter taste that builds into a sort of gummy mouthfeel.
Off-flavors: Dead on for the same kind of bitter, mouth-numbing taste I got off FLV Papaya Punch / maybe Peach Rings. Its worth nothing that this get less unpleasant with more wattage and heat. It isn't rubber or plastic, tastes a lot more neutral than that.
Throat Hit: 4/10. That bitter flavor is pretty mellow in terms of throat hit. The cherry is just a bit harsh.
Uses: Cherry gummy candy. Almost a gummied maraschino cherry vibe, so a slight accent anywhere you'd want that like a thick milkshake base or even an ice cream. It would probably work for a cherry cordial. Somebody said tobacco on FLV Rainier Cherry, so tobacco blends?
Pairings: Candy texturizers. At a small percentge, heavy creamy flavors like Cap Vanilla Custard or TFA VBIC. Sweet chocolate.
Notes: So, what if the problem with cherry concentrates is an attempt to create a bright cherry note? I tried FLV Cherry Filling looking for a more subdued cooked cherry. Maybe a little sweet and jammy with that comparatively subtle cherry note.
This is no way tastes realistic. It's way too artificial and bright for a real cherry filling. It's a too light and one-note for even a cheap hostess fruit pie neon red fruit filling. It really does taste quite a bit like cherry gummies and whatever they are using for mouthfeel reinforces that. It leaves a mouthfeel like cheap gummy bears, as opposed to either a nice rich pectin heavy natural filling or a corn starch thickened neon "cherry" filling.
I'd say its a mostly competent cherry candy concentrate.
Source: Reddit