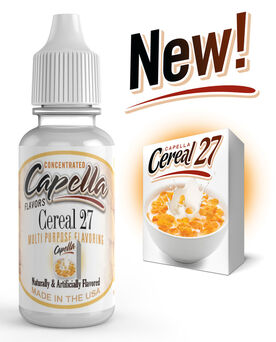 Setup: Plume veil; single coil kanthal at 0.4 with cotton wick; 35 watts.
Cap Cereal 27 @ 5%, aged 5 days
Flavor: Bran cereal with vague berry notes. It also could be taken as more of a mix of Pops and Honeycomb cereal if you ignore the berry and taste it more as just sweetness.
Off Flavors: None that I detect. Nothing like Berry Crunch or Flv Crunch Cereal.
Throat Hit: It's there, but not harsh
Use: This is pretty good stand alone. I'd say its the best single flavor cereal I've had. I'll try adding some creams and more berry. Could probably be taken in a more corn cereal direction with some AP.
Pairings: Creams; fruit/berries
Notes: I was surprised by this one. It'll probably get the most use in a cereal recipe as the main note, but it might find its way into pastries or something. It's not an adv stand alone, but could be made into something pretty good imo. I'm starting to get nic sick from hitting this so much and drinking coffee, but I'll update as I mess with it more.
Source: Reddit