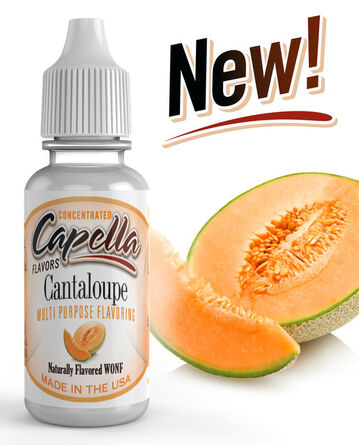 Setup: Recoil w/ flavor barrel, Dual 15 wrap 26g 3mm Nifethal 70 coils @.18 ohms. 60w power, 450F temp limit. Full Cotton Wicks.
Testing: CAP Cantaloupe @ 4%, 60/40 VG/PG, Steeped 14 days.
Flavor Description: Thick inhale. Moderately sweet inhale with some perfume notes. More of the same on the exhale. Sweetness is pretty subdued. Melon flavor square in the middle of the exhale. Flat, thick flavor with some perfume notes that don't quite cohere into a full cantaloupe flavor. Other reviews have mentioned creaminess, and I don't quite agree. It's definitely thick, but I'm not getting a smoothness I'd call creamy. No dairy notes there. I'm getting a flatter melon candy flavor under those perfume notes, not a realistic cantelope.
Off-flavors: Perfumey, especially on the inhale and lingering notes on the exhale.
Throat Hit: 5/10. This is pretty rough initially. Seems to smooth out a bit with extended use, but that initial note is pretty offputting.
Uses: Density would lend itself to mixes with brighter fruits. Something like a brighter watermelon flavor, where this would thicken the mix up. Mixes well with creams and vanillas. Perfume is tamed a a bit with creams.
Pairings: Mints, other melons, strawberry. I'd stay away from floral fruits like peaches and pears. VBIC seems to work really well. FLV Cream or FA Fresh Cream.
Notes: This confuses me a bit. I had to warm up to this flavor. It starts out almost soapy and perfumey and kind of settles into a pretty dull middle of the road melon flavor. Putting it down and walking away for a while it always seems rough on the first couple hits. Those perfume notes are a bit hard to manage. A subtle melon note and sharp perfume notes are going to make this hard to manage as a primary flavor in a mix. I'd stick to 2-4% as a supporting player.
Both INW Melon and FLV Cantaloupe are really good for this style of melon. I have a hard time coming up with a use that one of those wouldn't be better for.
Second Opinions:
Used in Wayne's HoneyDEWWEY recipe, he talks about a pleasant sweetness and using it to add a layer to TFA Honeydew at 3%
2,106 ELR Recipes. Notes talk about good level of sweetness, and authentic flavor.
Positive Reviews on ECX all around
From a melon FOTW post, /u/jiffythekid calls CAP Cantaloupe "Eh by itself but it complements other melons really well." They also call it realistic.
I agree with most of this, but this really doesn't read as realistic for me. I just get a flat flavor, without the nuances of a real cantaloupe.
Source: Reddit