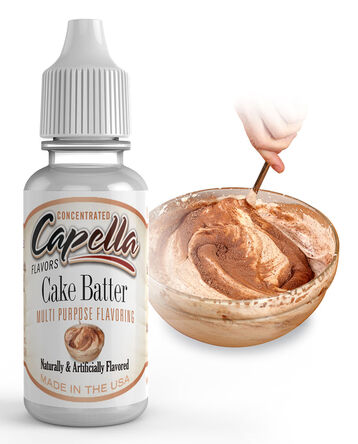 Setup: Velocity clone; dual twisted 28awg @ .55Ω; cotton wicks; 40 W
Testing: CAP Cake Batter @ 3%; Aged: 12 days
Flavor description: A gooey blend of vanilla, sugar, and butter with some cakey nuances and a subtle note of some sort of spice. I'm stuck between the "spice" being vanilla extract or something like cloves maybe? Reminiscent of a cheap store-bought birthday cake that didn't quite fully cook. It is rather potent tasting even at 3%.
Off-flavors: Pepper, grease, plastic, vomit, chemicals, or whatever those with sensitive palates taste, this flavor may have some of that.
Throat hit: 7/10
Uses: At low (~1%) percentages it can help add body or depth to a custard or donut/cake vape. This flavor is not recommended at higher percentages, although I have seen it work decently up to 3%.
Pairings: Custards, creams, cakes, cookies, donuts, nuts.
Notes: This flavor is not a great standalone, or as a shake and vape IMO, but it does mellow out quite a bit given enough steep time (2+ weeks). It can still be a rather offensive flavor even past that point to some people. It does come in handy depending on how it is used, but it is recommended to start low with this concentrate and work up if you prefer.
Source: Reddit