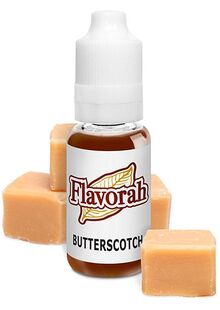 Summary I like this butterscotch a lot, to me it reminds me of a mix between a butterscotch candy and a butterscotch drizzle. You get a nice deep buttery note to give it good body, a dark caramelesque sweetness, and a bit of an astringent bite to it which I find helps cut through some of the more thick or dense vapes. It's not quite as creamy as I would like a butterscotch, but makes for a great butterscotch, caramel, or sweet-buttery accent to a mix. It really benefits from another cream or creamier butterscotch/caramel, in particular FW Butterscotch Ripple for a super decadent butterscotch.
On the Nose Butter, prominent dark sweetness, slight alcohol note.
Recommended Usage Stand alone: 3%. Decent but needs help.
In a mix: 1-2%
Throat Moderate
Pairings Other caramels/butterscotchs, creams, banana, vanilla, tobacco, coffee.
Avoid Bright fruits, melons, citrus.
Steep 3-4 days.
Quick Recipe: Butterscotch Banana Frozen Custard
Ratio: 20PG/80VG Steep: 1 week
TFA Banana Cream @ 4%
HS Banana @ .75%
FLV Butterscotch @ 2%
FW Butterscotch Ripple @ 3%
TFA Vanilla Bean Ice Cream @ 3%
CAP Vanilla Custard @ 2%
This is my go-to butterscotch vape. Butterscotch & Banana pair surprisingly well. As a decadent profile, it lends itself extremely well to super decadent vapes.
In this mix, FLV Butterscotch's role is to reinforce the butterscotch note and kind of cut through the heavy creams from the Custard, VBIC, and Ripple to offer that buttery dark sweetness you're looking for in a butterscotch. Without it, the butterscotch profile isn't as noticeable as you want it to be, and is a bit too creamy (as if that's possible).
While very tasty and decadent, I don't recommend making something like this your ADV unless you want to snack on your lungs during the movies.
Edit - Sub Ideas: I know a lot of people won't have HS banana if they want to mix this up. It's job here is to just bring the banana flavor a bit more forward. You can try bringing the TFA Banana Cream up a bit more, subbing with FA Banana (1-1.25%), leaving it out, or using your favorite banana in its place (I did try TFA Ripe Banana and was not a fan of how it turned out.
Source: Reddit