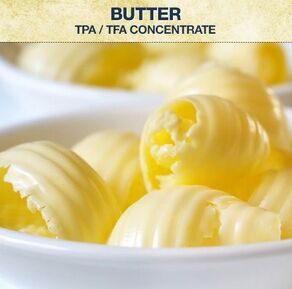 Setup
RDA/ Velocity Coil/ 6 Wrap Single Fused Kanthal Clapton 2×26 core 32 wrap W/ 45 Wicking/ Full Rayon Ω/0.26
Testing
Steep Time/3 weeks % Used/ 5 PG/VG 50/50 Nic%/0
Mouth Feel
Smooth and heavy on the tongue,and light on the nose. Not as dense as I was expecting but still up there 8 out of 10.
Throat Hit2/10
Flavor Properties
A creamy Rich smooth butter flavoring. I feel like I'm gaining weight just trying this out,  the cream comes off perfectly balanced with the fat, a hint of sweetness. Definitely taste like  cow's milk butter and taste like right out of the churn.
Relatable Flavors
Hello butter!!!!  Doesn't come off as movie theater style butter, more of the stick of butter when would you use for baking or cooking, even reminds me of clarified butter.
Off flavors
I am truly shocked, finding no off flavors other than that lingering aftertaste, and noticed at higher wattages aftertaste gets a little worse.
Position In The Recipe
Base note or accent,  this flavoring could easily be built upon, and used to Accent or push forward buttery notes in custards and cookies. I'm actually enjoying it as a standalone which is weird.
Pairings
Custard's and creams,  desserts, tobacco's, coffee's, chocolates, candies, and nuts along with most Fruit and Berry flavorings.
Recipe
I definitely something fantastic coming soon, and finally found what I feel is the key ingredient.
Notes
Here is some additional information on butter, if you don't already know everything about butter go ahead and take a look along with where to find it. 
http://www.bullcityvapor.com/butter-tfa/ 
https://en.m.wikipedia.org/wiki/Butter
Rating 95/100
Please if your opinion differs, or you have another review for this post it in the comments. Will help the master list with multiple reviews in one spot.
Source: Reddit