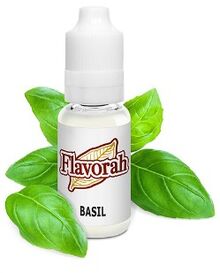 Setup: Velocity 2 Clone, Dual 15 wrap 3mm Nifethal 70 coils @.18 ohms. 45W power, 480F temp limit. Full Cotton Wicks.
Testing: FLV Basil @ 3%. Steeped for a week.
Flavor Description Somewhere between fresh basil and fresh fennel. Fairly sweet, but it has some almost anise bite. Hint of vanilla somewhere in there.
Off-flavors: At 45w tastes a lot like fennel. Upping the power starts to push into a a swampy vegetal taste underneath a clear, bright basil flavor.
Throat Hit 6/10. Fairly harsh on an RDA especially at lower wattages. Loses a lot of that throat hit in a tank.
Uses: Refreshing alternative or complement for a natural mint flavor. Beverage mixes. Savory flavors, if you are a monster. At lower percentages I could see it complementing a sweet anise flavor.
Pairings: Pineapple, Strawberry, Anise, Mint, Vanilla. Brighter fruit mixes without a jammy component.
Notes: Picked this up because I was curious about the August 8th stuff that Flavorah dropped and hadn't seen a lot of reviews. Primary competition here would be FA Zen Garden, and I think this wins hands down. Zen Garden has always tasted like dried basil flakes, whereas this is a much brighter and fresh tasting flavor. It does struggle with some of the same off flavors at higher wattages. I was hoping for a nice clean thai basil type of flavor, and it falls short of that mark. Much more of a sweet basil flavor with some vegetal murkiness. A mix with any kind of jammy or fermented flavor is going to do some really weird things to this concentrate.
Source: Reddit