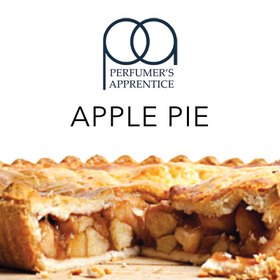 Setup: Plume Veil RDA; dual parallel @ .35Ω; cotton wicks; 45W
Testing: TFA Apple Pie @ 3%; Aged: 3 days
Flavor description: Cinnamon/nutmeg pie crust with decently tart yet sweet apple notes. A bit sugary. Tastes like more of a green apple due to it's tartness, but there seems to be a bit of red apple sweetness to it as well.
Off-flavors: The cinnamon/nutmeg flavor might be harsh for sensitive throats.
Throat hit: 7/10
Uses: Bakery recipes, or to add a light cinnamon/nutmeg spice note to your mix. If it already has fruit in it, it will blend well without the apple taking over at lower percentages.
Pairings: Creams, custards, caramel, cookies, possibly some nuts or tobacco. Another apple flavor such as FA Fuji or INW Two Apples if you're after a stronger apple taste.
Notes: To me, this is definitely a crust-forward flavoring, but the apple taste sits noticeably in the background
Source: Reddit