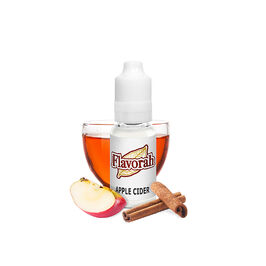 Setup: Velocity 2 Clone, Dual 15 wrap 3mm Nifethal 70 coils @.18 ohms. 45W power, 480F temp limit. Full Cotton Wicks.
Testing: FLV Apple Cider @ 3%, 70/30 VG/PG, Steeped 9 days.
Flavor Description: Tastes like a grocery store apple cider, which is a good thing. No skin, no spice notes, no real "stewed" taste. Darker than an apple juice flavor.
Off-flavor: None that I'm getting.
Throat Hit: 4/10. It's there but not too obnoxious or out of line with something like FA Fuji.
Uses: Seems obvious, but apple cider. Mulled cider with some additional spice notes. Baked apples. Anything that you want a more realistic and not candied apple flavor.
Pairings: Bakeries, Whiskey, Spices, Citrus, Pears. Anything that calls for a darker apple flavor.
Notes: (Pleasantly) Surprised by this flavor. Dipped into it on day 3 and it was an absolute mess. Took longer that I'd guess for a single flavor to come together. It pretty much does what it says on the tin. Tastes a lot like FA Fuji with a tiny amount of FA Liquid Amber, although maybe a bit less juicy. I would think it compares favorably to something like HS Apple mix if you want to build a cider flavor from the ground up. Really solid, although probably inessential because of the Fuji and Liquid Amber trick.
Source: Reddit